Handmade Series Regina Andrew Detroit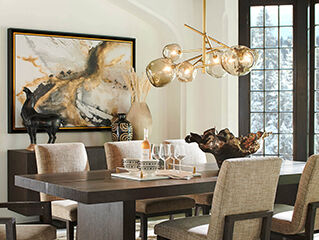 Electrify The Room

Real-life couple Carla Regina and James Andrew (AKA Jimi) founded Regina Andrew Detroit (RAD) with one goal in mind: that everything they do should electrify the room. Based in the "Paris of the Midwest," their home decor and lighting brand has hit that goal and then some, as they've expertly blended form with function and added a hearty dose of rock 'n' roll along the way. Their products are globally inspired and designed with natural materials as the star. Alabaster, crystal, and marble offer a timeless aesthetic, while brass and mirrored finishes bring RAD's signature glamour to the forefront.

The yin to each other's yang, this dynamic married duo has a complementary style that creates a perfect balance of grit and grace.
Designed in Detroit and handmade by artisans around the world, RAD's pursuit of inspiration has taken them across the earth to discover materials and forms that drive their designs.
Each piece is designed as a labor of love, pouring over each minute detail without compromise. It is the passion for this process that drives RAD's team with equal part cutting-edge innovation and quality craftsmanship that is hallmark to Detroit manufacturing and the RAD spirit.
Shop By Category

Masters at transforming reclaimed and recycled objects into things of beauty, RAD rocks the belief that anything is possible.

Time To Get Started!

You value the time and artistry that goes into creating a handmade item - afterall, that is what makes each piece unique.
Now, begin the exciting journey of incorporating these comforting and one-of-a-kind pieces into each room of your home.
If you're not sure where to start, contact one of our Experts today at 866.344.3875.