Handmade Series Hubbardton Forge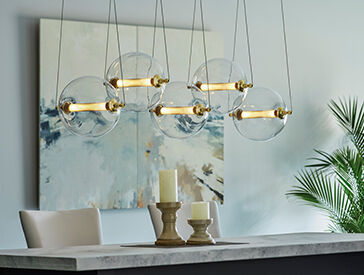 The Art of the Forge
As a company that started out in 1974 with two college buddies in a barn with great creative talent, passion and a vision, Hubbardton Forge has grown to 230 strong and is one of the country's oldest and largest continuously-operating commercial forges. Located in Castleton, Vermont, artisans are design-driven and handcraft each product to order, one at a time.
By building on traditional techniques while focusing on fine design, Hubbardton Forge has become one of the most respected brands in the lighting industry. Their award-winning team of designers takes inspiration from everywhere – the natural world, sculptures, architecture and their own innate sense of form and function.
Modern American Blacksmiths

Hubbardton's artisans work with natural materials like iron and glass throughout their day. Many members of the forge family spend a good deal of personal time outdoors, too. This keeps them connected to the world around us. It also reinforces their dedication to thoughtfully manufacture products using sustainable practices.
SHOP BY CATEGORY
Whatever the seed of the idea is – once it's sketched on paper or computer, or shaped from paper, foam or some other choice material, Hubbardton's engineering and forge teams translate it into a sculpture of metal.

Time To Get Started!

You value the time and artistry that goes into creating a handmade item - afterall, that is what makes each piece unique.
Now, begin the exciting journey of incorporating these comforting and one-of-a-kind pieces into each room of your home.
If you're not sure where to start, contact one of our Experts today at 866.344.3875.