A Heritage of Distinction Arteriors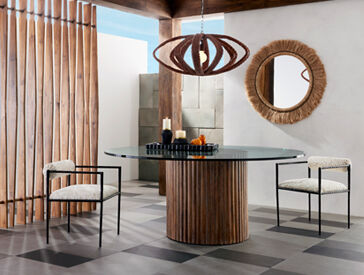 35th Anniversary
What began 35 years ago as a boutique accessories company has evolved into a global force in the design industry. With premier lighting, furniture, and accessories, Arteriors redefines interior spaces through unexpected creativity and meticulous craftsmanship. Pursuit of innovation drives Arteriors forward and their imagination never rests. Thanks to their vibrant design community, Arteriors is inspired to continue the remarkable journey. Celebrate with them.

It is the fine balance between art and interiors at Arteriors' core. Every design is a unique statement of their commitment to bring art to every story, and a story to every interio

Art, architecture, and fashion are in Arteriors' DNA, and their product designers travel the world to bring the most authentic elements of their inspiration to our designs. They believe good design begins with inspiration and identification of the latest materials and practices formed by the hand of the skilled makers with ancient artisanal knowledge. Whether the technique is hammered, glass blown or hand carved, the design's purpose is intuitively expressed and experienced effortlessly, making each piece distinct.
The touch of the human hand in every Arteriors product–an artisanal element that makes each piece unique–is a signature that infuses our designs with an intangible sense of luxury that is equal parts raw and refined.

Shop By Category

Each of Arteriors' products - whether in lighting, furniture, accessories or wall décor - achieve an imagination and uncompromising balance of ideas, forms, textures, and finishes.

Time To Get Started!

You value the time and artistry that goes into creating a handmade item - after all, that is what makes each piece unique.
Now, begin the exciting journey of incorporating these comforting and one-of-a-kind pieces into each room of your home.
If you're not sure where to start, contact one of our Experts today at 866.344.3875.